I don't usually syndicate postings, but this is a great exception! Justin Taylor announced that Yale has posted a free, searchable version of Jonathan Edward's Blank Bible.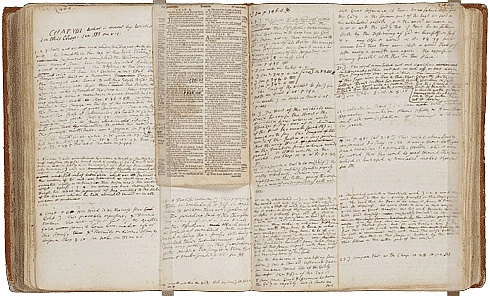 Edwards cut out small pages of scripture and then pasted them into a big blank book, and then wrote commentary on the scriptures. Yale has converted this book into web pages. The Blank Bible's Index Page has several links to background information on the book, and then lists links to each of the books of the bible beneath the intro. So its easy to click on [Genesis] to see Jonathan Edward's commentary on it. Or on [Mathew], or the [New Testament], etc. I wasn't able to find actual scans of the Blank Bible, but those probably are not as useful.
This is a great addition to the John Calvin and Martin Luther commentaries I previously shared. I need to figure out how to make one of these blank books with inline bible pages.
By: Wyatt Houtz
Related
:
commentaries
,
Jonathan Edwards
,
justin taylor
,
yale