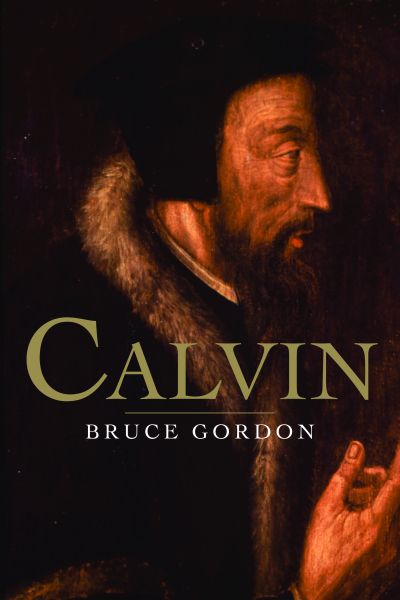 Prof. F. Bruce Gordon's "Calvin" (amazon) is a new biography of John Calvin released in 2009, which coincides to John Calvin's 500th birthday. I learned about the biography from the 2009 Desiring God National Conference: With Calvin in the Theater of God. Although there are many biographies of Calvin, this particular one received the most attention in the conference, primarily because it was the most recent and released in the year of Calvin 500th's birthday, but also because most people at the conference believed Gordon characterized Calvin as a ruthless, harsh and angry man. I don't remember who said exactly what about the biography, so I may be misquoting them, but I do feel the same about the book, now that I've read it.
I really enjoyed this critical biography. It contained interesting comparisons such as between Seneca and Nero to Calvin and King Francis. This biography contains a expansive source of notes at the end of the book that testifies to its details, yet the actually biography potion is under 350pages;  so its not too long, but at times it is a rather cold and critical biography that focuses on the ruthlessness of Calvin's character. It is not like Theodore Beza's glowing biography of Calvin.
I enjoyed the last 200 pages that contained interesting correspondences between Swiss Reformer, Heinrich Bullinger, and Marth Luther, and Luther's heir, Philip Melachthon as well as cameos by John Knox and Theodore Beza. There were also several discussion of the expansions in the Institutes.
In conclusion, I agree that Gordon was very critical of Calvin's character, but he does redeem Calvin from the Servetus affair, by saying that Servetus's death was not ultimately Calvin's decision, but none-the-less, Calvin was still criticized for his coldness. Gordon's last remarks about Calvin as he died, was a harsh ending.
Overall, it's an excellent biography and I recommend it.
Related
:
Biography
,
Book
,
Bruce Gordon
,
Bullinger
,
Heinrich Bullinger
,
John Calvin
,
Martin Luther
,
Melanchthon
,
Phillip Melanchton
,
Swiss Reformation
,
Theodore Beza