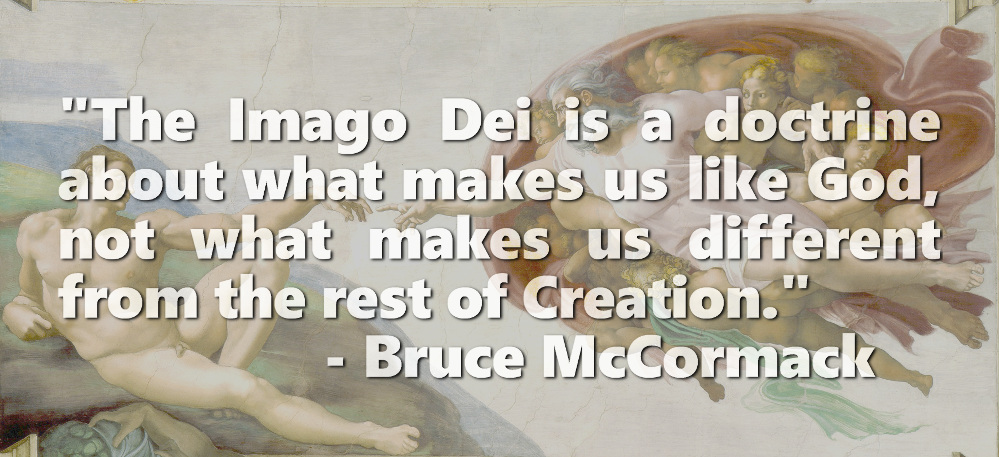 In a panel discussion at the LA Theology 2015 conference, Bruce McCormack provides this provocative explanation on how the imago dei has been misused in the history of Christian theology. I've transcribed his response in the video link as follows.
Bruce McCormack on the imago dei:
"The doctrine of the Image of God has been badly misused throughout the history of Christian Theology. It's been made to answer the wrong questions. It's been made to answer the question of what gives human beings significance which quickly turns into what makes us different from animals. Now that's a very dangerous game to play, because those who study the higher forms of primate life are eroding those differences left, right and center. And I think, one of the things we may learn from that, is that the Imago Dei is a doctrine about what makes us like god, not what makes us different from the rest of Creation. And because that's the case, you are not going to be able to describe it phenomenological or metaphysically, I think you have to describe it Christologically. You're not describing it in terms of some set of properties, intellect, memory, will, whatever, you're not doing it that way. What I think that the Imago Dei is, at the end of the day, is holiness. It is holiness rooted in kenotic, self-giving, love. Leviticus 19:2 says, 'I the Lord your God, am a holy God, you shall be a holy people.' To be in a relationship with this God, is to be holy. What does this look like? It has to be in conformity of our lived existence in this world to Jesus' own; to his life of perfect obedience; it's about correspondence to him; it's about holiness. And as I say, its a holiness that arises out of kenotic, self-giving love. That's the image, but that's how Christ is."

McCormack, Bruce. "LA Theology Conference Panel Discussion."
YouTube. YouTube, 3 Feb. 2015. Web. 25 Feb. 2015.
<https://www.youtube.com/watch?v=AnqA6Iluj_c#t=1h4m7s>.
Related
:
Bruce McCormack
,
Image of GOd
,
imago Dei
,
latc15