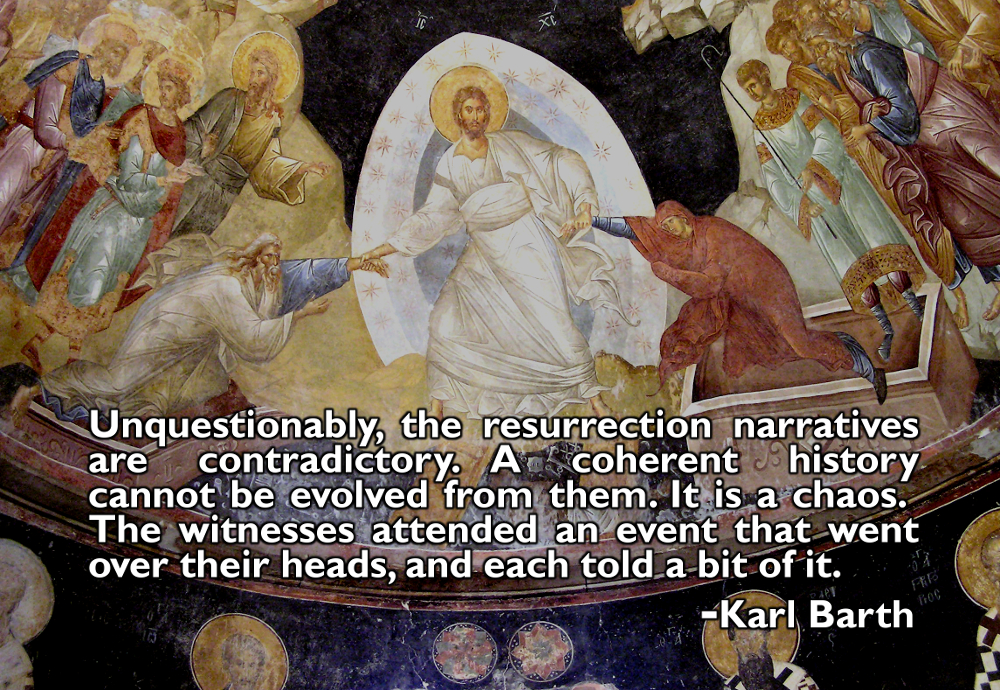 The Passion Narratives are notoriously difficult to harmonize, and despite ingenious solutions, there remains to be discovered a satisfactory harmonization of the events. A natural conclusion is that these conflicting narratives are not intended to be harmonized. These conflicting narratives should not be smoothed out in the same way that it would be wrong to flatten the terrain of a National Park. The Early Church understood that there is beauty in diversity, and this is why the Early Church did not allow Tatian's Dissertation to supplant the four Evangelists.
Evangelicals assume a defensive pose anytime biblical criticism suggests that the Passion Narratives are any other genre than objective eye-witness reporting or that they may allow contradictory elements. If two of the Evangelists contradict each other on the exact moment the resurrection was witnessed (before dawn, at down, after dawn, etc.), will the Resurrection really be disproved? This is absurd! Karl Barth has provided criticism as such, and this has caused many Evangelicals to hastily pronounce "Aha! See, Karl Barth denies the Resurrection, because he admits that the witnesses to the Resurrection cannot be harmonized."
In The Faith of the Church: A Commentary on the Apostle's Creed According to Calvin's Catechism, Karl Barth provides a helpful remark on the Apostles' Creed regarding the Passion Narratives that is concise and easy to understand.
REMARK on the "Historicity" of the Resurrection.
Unquestionably, the resurrection narratives are contradictory. A coherent history cannot be evolved from them. The appearances to the women and apostles, in Galilee and Jerusalem, which are reported by the Gospels and Paul, cannot be harmonized. It is a chaos. The evangelical theologians of the nineteenth century--my father, for instance--were wrong in trying to arrange things so as to prove the historicity of the resurrection. Their intention deserved praise. But they should have remembered that even the early Church had not tried to harmonize the resurrection stories. She had really felt that about this unique event there was something of an earthquake for everybody in attendance. The witnesses attended an event that went over their heads, and each told a bit of it. But these scraps are sufficient to bear witness to us of the magnitude of the event and its historicity. Every one of the witnesses declares God's free grace which surpasses all human understanding. God alone can prove the truth of that history since he himself is its subject. Fortunately, God has never ceased to work in men's hearts and send the faith needed to those things.

Barth, Karl. Ed. Jean-Louis Leuba. The Faith of the Church: A Commentary on the Apostle's Creed According to Calvin's Catechism. Trans. Gabriel Vahanian. New York: Meridian, 1963. 108. Print.
For more information, see Karl Barth's demythologizing the Empty Tomb.
"Chora Anastasis1" by Gunnar Bach Pedersen - Self-photographed. Licensed under Public Domain via Wikimedia Commons.
Related
:
Karl Barth
,
Passion Narratives
,
Resurrection
,
Textual Criticism